Back to previous page
Marine displays and waterproof panels PC
Our displays and panels P dedicated for marine applications
---
Altronics is providing various waterproof panels PC and marine displays ranges for navigation desks, engines room, outside or inside bridges...
Marine environment constraints
For electronical devices and displays, the marine environment is full of constraints.

Firstly because of its salty atmosphere. Salt in the air can be dispatched by the wind on the surfaces and the equipments leading to their corrosion. Stainless steel (304 and 316) chassis are often choosed for displays mounted outside because of their high resistance in corrosive atmosphere.

The ingress protection of the displays and connectors is also essential for outside applications where the devices will be subject to important water projections.

Concerning the navigation equipments, various parameters must be considered :

Electromagnetic compatibility (EMC) : electronical devices and displays are generating electromagnetic energy that can disturb other systems if it is too high.

The brightness : during night navigation, the navigators sight musn't be disturbed by the surrounding brightness, it must be minimum for their eyes to get used to dark.

The compatibility with other navigation equipments and softwares : the radar displaying must be without any deformation, the picture refresh rate must be quick enough, the exploitation system must be adapted, the signals compatible...

For military marine, the display must be even more ruggedized especially concerning shock and vibration resistance.

To learn more about how to choose a rugged display, you can check our dedicated guide.

The main certifications for marine displays
ECDIS certification : it answers to standards of the International Maritime Organization in terms of displaying and cartography. To be ECDIS compliant, the display must have a refreshing rate under 5 seconds, must be bigger than 270mm x 270mm, must have a screen resolution above 864 lines, display at least 64 colors, have settable brightness and contrast...

DNV (2.4) environmental tests for instrumentation and equipments : it can be obtained after various environmental tests such as power supply, vibrations resistance, Dry or damp heat, cold, salt corrosion, electromagnetic compatibility.

For more informations :
>> DVN 2.4
Certified marine displays

The Wave marine displays are certified for military (MIL-810F and 901D) and professional marine uses (IEC, ECDIS, DNV...). In addition to their ruggedness and their reliability, these displays are flexible for integration thanks to their various mounting possibilities. They all feature a direct brightness control from 100% to 0% (deepdimming), a 24 VDC or 230VAC power supply, and are available in high bright or touchscreen versions (optional).

>> Marine displays 19" to 46", VGA, DVI-I, Composite, S-Video

Example of integration to a navigation desk :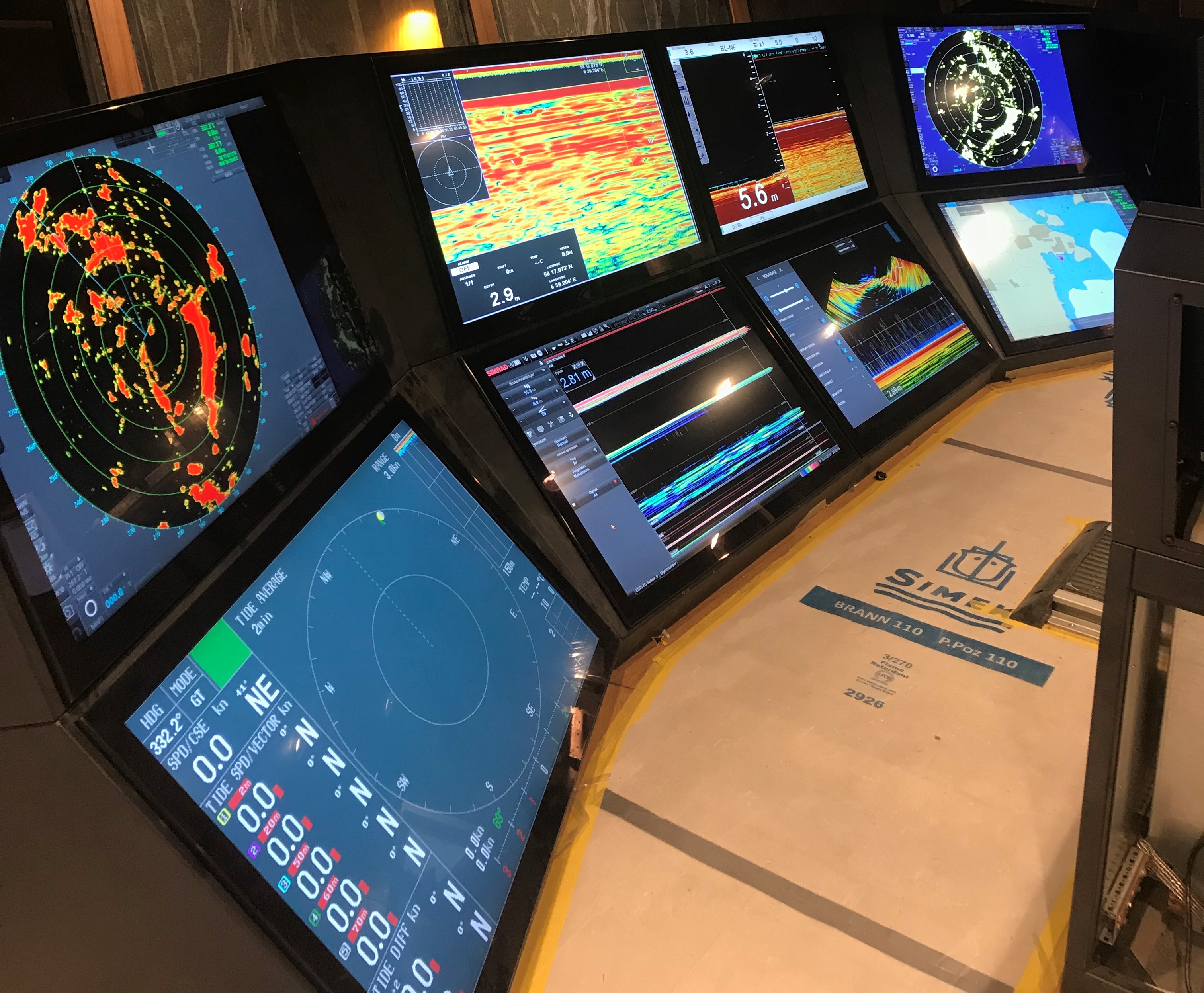 Rack coated displays

We can design rack coated displays. IP65 from front, the electronic is coated and the brightness can be adjusted down to 0% (deepdimming).

Waterproof panels PC

We can also provide fully IP65 panels PC with waterproof connectors. Specifications are customizable according your needs.

>> 15" Waterproof panels PC with touchscreen
>> 17" Waterproof panels PC with touchscreen
>> 19" Waterproof panels PC with touchscreen

>> Customizable panels PC
Multi-function CAN bus displays NMEA 2000
CAN bus displays allow the monitoring of a system transmitted data such as engine, generators, speed, fuel information...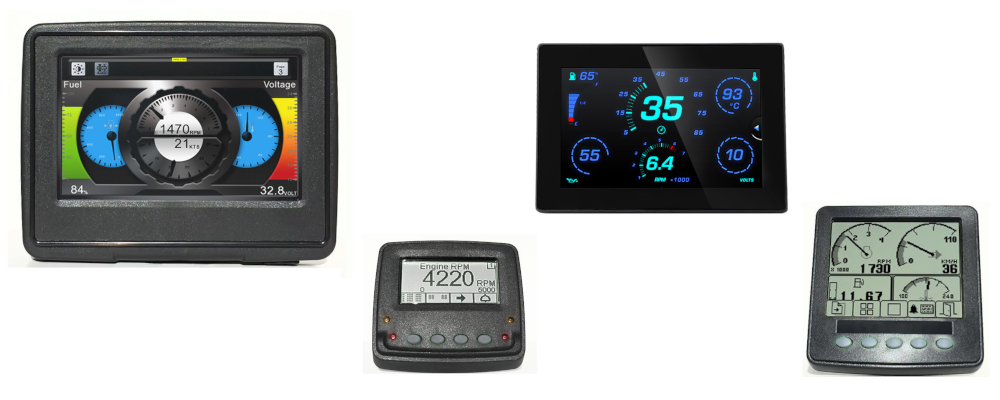 NMEA 2000 offers a lot of possibilities regarding boat installation. It allow the speed, depth, anemometer displaying but also all other engine, sensors information...

From 2.3" to 7", 8~32V DC power supply, IP66/67, touchscreen or not, high brightness, find our range of multi-function CAN bus displays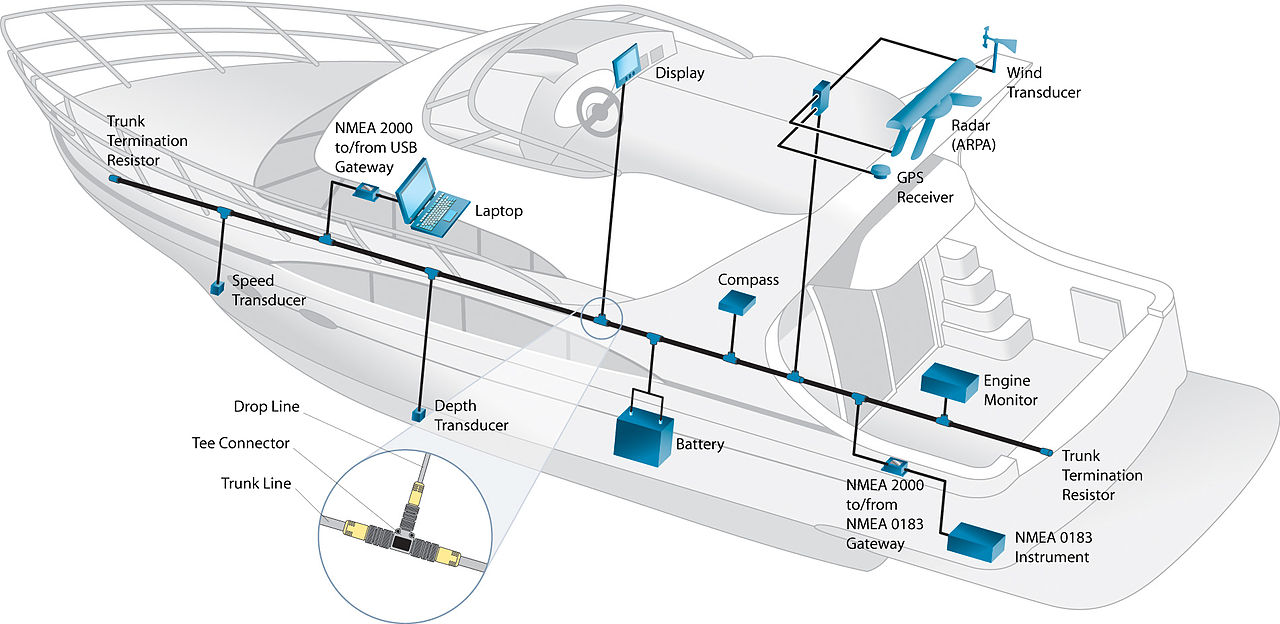 For more information you can check our dedicated guide about CAN bus and its benefits.